Clotilde Soffritti in: Never Buy a Used Spaceship
A downloadable game for Windows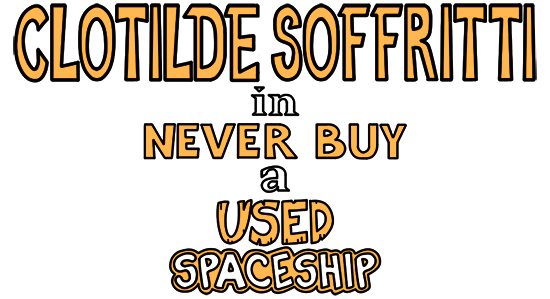 Thinking about buying a used spaceship? Think again!
In this cautionary tale of great emotional impact (?), our heroine Clotilde finds herself stuck on an old spaceship, directed towards the sun!
Only you can save the ship! Oh, and her life too.

One player character!
Lots of stuff to click on!
Comic book style cutscenes!
720p graphics! Lots of pixels for the whole family!
No less than 13 inventory items!
15 rooms, not even a third of them playable!
No moral choices whatsoever!
So many puzzles!
Several gripping minutes of gameplay!
Note: There's a puzzle involving colours in the game. If you have trouble with it, you can find a "colour-blind mode" option in the settings menu.

Lorenzo Boni: story, coding, graphics, animations.

Dave Seaman: testing, proofreading.
Download
Click download now to get access to the following files: